30/09/2021

,

23/05/22

—
After many months of turmoil, businesses that kept the nation going receive the recognition – and support – they deserve
Golden opportunity: business owners had the chance to put their questions to Kanya King, left, and Tamara Lohan
Small businesses have had a tough 18 months, using up much of their stores of adaptability, creativity and resilience to survive. Lloyds Bank and The Times celebrated their grit and determination with the Small Business of 2021 Competition – and the winners bagged online mentoring sessions with the country's most exciting entrepreneurs.
Tamara Lohan founded boutique travel agency Mr & Mrs Smith with her husband James in 2002 and was later awarded an MBE for services to the travel industry. A technology strategist with a background in marketing, she became CEO of her company in April 2020 as the Covid crisis started to take hold. If anyone knows about steering a ship through unchartered waters, it's Lohan.
Kanya King founded the MOBO Awards in 1996 and was awarded an MBE for services to the music industry three years later. Now a CBE, King believes that digital innovation is the route to making the most of opportunities post-lockdown.
"When your conviction and beliefs are so strong, you find the courage to weather the storm and fight off all adversaries," she says. "If you come from a place of truth and stand for something that matters to you, you have the opportunity to make a change."
They're two inspiring mentors – so what did our winners take away from the sessions and how will they build a brighter future for their businesses?
In the Tamara Lohan session
Gita Raikundalia, Nakasero
"Tamara really normalised what an entrepreneur goes through. She said, and this resonated: 'From the outside we look like beautiful dancing swans but only we know the turmoil, uncertainty, anxiety and sleepless nights.' She talked about goal setting, asking what we want to achieve this week, this month and this year. Always focus on that next step, she said. I found the session so reassuring – I know I'm on the right track now."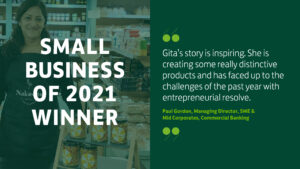 ###