Gita Raikundalia, Founder of Nakasero, is a Great British Entrepreneur Awards Finalist 2020
Northampton

,

27/07/20

—
---
---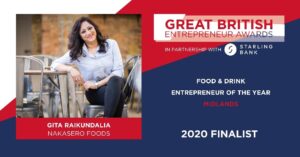 Gita Raikundalia, founder of Nakasero Foods, humbled to be shortlisted as a Finalist in the Great British Entrepreneurs Awards for the Food and Drink sector.
Gita started working on an idea and concept in April 2019 and launched Nakasero Foods in February 2020 with their first product Giardiniera. A vibrant Italian relish which is known as Chicago's best kept secret. A spicy, tangy relish made with chillies, a selection of crispy vegetables, garlic and infused in a careful blend of herbs and spices. Once you have tried Giardiniera, you will not be able to do without it.
"It was one thing to have a unique product and a great business idea however I am passionate about clean wholesome eating and it was very important to me that my business reflects this; hence my first product has been carefully crafted completely sugar-free, free from wheat, gluten, artificial additives and preservatives. I want to make it easy for people to enjoy a clean diet without compromising on taste"
Gita worked closely with the Vegetarian Society to gain Vegan Accreditation for Giardiniera ahead of their launch, which she is proud to hold. In conjunction with 'Made in Northampton' (MIN), Nakasero have worked hard to source ingredients locally and build relationships with local suppliers to help support the business community especially during these trying times.
During the Covid-19 lockdown, Gita realised that she would need to think outside the box and quickly launched an online sales platform www.nakasero.com in order to reach her customers. Nakasero decided to offer free deliveries within Northampton and postal deliveries nationwide.
Just five months post launch, Nakasero can now be found in many of Northampton's independent retailers including The Daily Bread Cooperative, St Giles Cheese, Smiths Farm shop and Castle Ashby Deli. They have also collaborated with well-known restaurants and cafes such as Jeyes of Earls Barton and the Smoke Pit who have created mouth-watering dishes using Nakasero's Giardiniera.
This is a true testament of what one can achieve with focused dedication and graft, even through a pandemic.
Gita's mission statement for Nakasero is simple, to bring you eclectic recipes by uncovering hidden culinary gems from around the world whilst staying true to our mantra of wholesome food.
With food being an obvious joy in the hardest of times recently, this is one business you should watch out for.
---
###