Print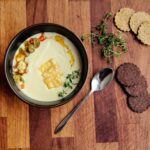 Cauliflower Cheese Soup with Giardiniera
Author:

Prep Time:

20 mins

Cook Time:

30 mins

Total Time:

50 minutes

Yield:

4

1

x
---
Description
A mouth watering twist to the much loved Cauliflower Cheese.  This soup is so warming and moreish you will have everyone wanting more
---
2 tbsp

olive oil 

1

large Onion, diced

3

garlic cloves, minced

4

sprigs of thyme

1

Small cauliflower

400

ml Vegetable stock

200

ml Double cream

150g

Cheddar cheese, grated

30g

Parmesan cheese, grated

20g

Parmesan, sliced for garnish crisps (optional)

1 tsp

Dijon mustard

1 tbsp

of white wine vinegar

1 tbsp

of Worcestershire sauce
Salt and pepper, to taste

1 tbsp

Nakasero Giardiniera
---
Instructions
Heat the olive oil in a non-stick pan.
Add the onions and garlic to the pan and fry until they are soft and translucent.
Meanwhile, wash and cut the cauliflower into small florets and slice the stalk into small pieces.
Add the thyme, vegetable stock, Worcestershire sauce and vinegar to the plan and bring to boil.
Add the cauliflower to the pan and simmer for 20 mins or until the cauliflower is completely cooked through.
Using a hand or jug blender, blend the soup until it is smooth and return to the pan.
Add the grated cheeses and mustard to your soup.
After the cheeses have melted, stir in the cream.
Taste the soup and add salt if required.
Serve the soup with a garnish of fresh thyme, the Parmesan crisps and a generous dollop of Nakasero Giardiniera.
Send us a snap of your creation, and enjoy!
  For the Parmesan crisp Garnish
(It's best to make the Parmesan crisps while the cauliflower is simmering in the soup so the crisps have time to cool)
Preheat your oven to 180°C.
Put some grease proof paper on a baking tray and arrange your Parmesan slices on there.
Bake the Parmesan in the oven until the slices start to bubble.
Take the slices out and let them cool on the paper, they should be easily peel of the baking sheet once they are completely cool.
---
Notes
For a vegan option omit Worcestershire sauce and replace the cream and cheese and  with 1 tin of coconut milk and 6-7 tbsp of nutritional yeast.
Keywords: Soup, Cheese, Cauliflower