Print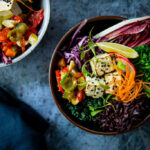 ---
Description
The Buddha bowl is known for its balance and harmony of fresh flavours. 
The tale goes: Buddha carried his bowl with him on his travels to fill it with offerings of vegetarian food from local villagers.  Some also say your Buddha bowl should be filled to the brim, resembling the belly of Buddha.
Whichever story you like best, this is the perfect meal to enjoy with your family or friends.
---
230g

brown rice

200g

edamame

400g

kale, roughly chopped

200g

tender stem broccoli, cut into bite size pieces

200g

firm tofu, diced into bite size pieces

1

carrot,  finely shredded

4

small radishes,  finely sliced

1/2

small red cabbage, finely shredded

4

leaves of red chicory

1

lime, cut in four wedges

3

cloves garlic,  minced

3

cm size ginger, finely grated

1

small onion, diced

3 tbsp

soy sauce

2 tbsp

sesame oil

1 tbsp

olive oil

1 tbsp

red wine or apple cider vinegar
Coriander to garnish
Black sesame seeds to garnish
Nakasero Giardiniera
---
Instructions
Preparation
Drain and cube your tofu into bite size pieces
Marinate the tofu in 1 tbsp soy sauce, 1 clove of minced garlic and vinegar and set aside for approx 20 mins. (this is an optional step, you may prefer to use plain tofu)
Cook your brown rice in slighted salted water as per cooking instructions.
Bring another pot of salted water to the boil and add edamame beans, simmer till the beans are tender.  Drain and keep aside.
Heat the sesame oil in a pan and add ginger and onion.  Stir fry for approx 5 mins or till onions are translucent.
Add the cooked rice and edamame to the pan with remaining soy sauce, combine all well and set aside.
In a separate frying pan add olive oil and garlic.  Stir fry for 1 min to release the aroma from the garlic.
Add kale and broccoli to the frying pan with a pinch of salt.
Stir fry till the broccoli is tender and set aside.
Stir Fry your tofu in the same frying pan until all the marinade has evaporated, if using plain tofu stir fry till the tofu has warmed through.
Assembly
Divide the rice into four bowls.
Spoon the kale and broccoli on one corner of your rice.
Arrange the carrot, radish, cabbage, tofu and chicory the bowl.
Add a generous scoop of Giardiniera, and drizzle some of the Giardiniera brine to add tartness.
Garnish with coriander leaves and black sesame seeds.
Send us a snap of your creation, and enjoy!
---
Notes
The list of vegetables is a guide, you can replace them with other vegetables you may have in your fridge.